By Pam McKenna,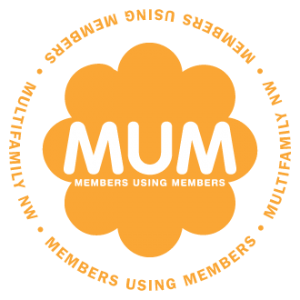 Director of Real Estate, Greystar
As I walked through the booths at the Spectrum Trade Show, I was struck by the vast amount of knowledge and experience that these industry partners bring to our business. It underscored how crucial this partnership component is to our success. The challenge can be in choosing the right supplier, understanding how to manage the process and defining the scope of work. This can often be overwhelming but with a few simple steps and procedures in place you can set a standard for your community that will help you alleviate a lot of the stress.
Step one – set up your approved vendor list ahead of time. Don't wait until something goes wrong to engage your suppliers. Create a list of the categories of supplies and services you will eventually need to order, including emergency services. Once you have created this list you can start the process of locating the right supplier or contractor.
Step two – do your research. Multifamily NW offers a great solution called MUM (members using members) Being a member with Multifamily NW gives you access to a list of industry supplier members that are in good standing with the association and the members. Being a member you also have access to other members in the industry that can provide references or feedback on suppliers. Through word of mouth you can discover the best companies for customer service and quality work.
Step three – protect your property from liability. Set minimum insurance requirements to protect the property owner from potential liability resulting from labor, deliveries, and other exposures related to having contractors on site. Consider using a compliance organization that will track your vendor list ensuring every participating vendor is up to date on their insurance coverage and their credentials meet your standards.
Step four – define your scope of work. A recommended way to do this for larger projects is to engage an construction project manager that can determine the extent of the work required and help to write the scope of work. If it is smaller projects, for instance exterior building window cleaning, sit down with your maintenance team to properly define the project to include how many stories the building is, how many exterior windows, do you expect them to clean the exterior of the balconies while completing the job, etc. Make sure to include details that may be important to note for instance if you are running a "green" building you may have requirements for products that can be used at your community.
Step five – take it out to bid, with a standard written scope of work, providing all suppliers the written scope. This allows for a more precise and fair bidding process relying on an "apples to apples" comparison of price based on an identical scope. Be clear on your change order process in the event that the job requires additional work.
Step six – create a bid comparison sheet. Compare the bids side by side with your property owner, your supervisor or your team.   This is an efficient way to get approvals processed and documented, especially for larger projects.
Step seven – execute a contract. This is an important document so be sure to review the contract before signing it. Have your project manager or legal department review the contract if necessary. Are you the right person to sign it based on your Property Management Agreement? What are the specific terms of the contract? Does it have an auto renewal written into the contract? Often we get in a rush to push work through and can overlook unfavorable terms. Take the time to ensure what you are putting into place is the best for your property owner.
Step eight – clarify the payment process. What are the terms of payment for your property? Communicate this to your contractor or supplier so they understand the process. If you are processing a draw request for capital improvements this can often delay the timing of payment. Being transparent up front is always a benefit to both parties.
Step nine – inspect what you expect. Follow up and inspect the work before signing off on the work. If you are not satisfied with the work, allow the contractor to come back and make it right. One of my biggest pet peeves is managers that want to fire a vendor for not meeting their expectations before they make them aware they aren't happy with the work performed. Give your industry suppliers the same respect we would want to receive.
Step ten – build partnerships. Long term partnership will work in your favor. When you have built solid relationship with an industry supplier they will better understand your expectations for future work. You will spend less time explaining what you expect the next time around. Long term partnerships build dependability, trust and confidence.
These steps will help in building industry partnerships resulting in better solutions and costs savings. This valuable partnership is well worth your time and energy, allowing you to tap into the vast knowledge and experiences of our great industry suppliers and contractors.