By: Craig McConachie, C&R Real Estate Services, Co.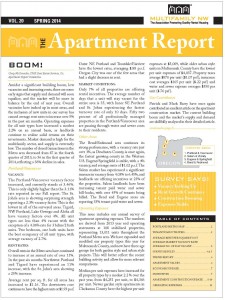 Amidst a significant building boom, low vacancies and increasing rents, there are some early signs that supply and demand will soon equalize, and the market will be more in balance by the end of next year. Overall vacancies have inched up in most areas, and the inclusion of new units in our survey has caused average rent rates to increase over 5% in the past six months.  Operating expenses for all unit types have increased a modest 2.2% on an annual basis, as landlords continue to realize solid returns on their investments.  Market demand is high for the multifamily sector, and supply is extremely low.  The number of closed transactions in the Metro area decreased from 87 in the fourth quarter of 2013, to 56 in the first quarter of 2014, reflecting a 36% decline in sales.
Portland/Vancouver
Vacancy
The Portland /Vancouver vacancy factor increased, and currently stands at 3.46%.  This is only slightly higher than the 3.11% rate reported in our Fall report.  The St. John's area is showing surprising strength reporting a 2.3% vacancy factor. This is the lowest in all of the surveyed areas.  Tigard, NW Portland, Lake Oswego and Aloha all have vacancy factors over 4%.   All unit types are less than 4% vacant with the exception of a 4.06% rate for 3 bdrm/2bath units. Two-bedroom, one bath units have the best occupancy all unit types, with average vacancy of 2.7%.
Rent Rates
Overall rents in the Metro area have continued to increase at an annual rate of over 11%.  In the past six months Northwest Portland, and Tigard have experienced an 11% increase, with the St. John's area showing a 25% increase.
Average rent per sq. ft. for all areas has increased to $1.16.  The downtown core continues to have the highest rents at $1.93 p.s.f.   Outer NE Portland and Troutdale/Fairview have the lowest rates, averaging $.88 p.s.f.  Oregon City was one of the few areas that had a slight decrease in rent.
Market Conditions
Only 7% of all properties are offering rental incentives. The average number of days that a unit will stay vacant for the entire area is 35, with Inner SE Portland and St. Johns experiencing the fastest turnover rate of only 10 days. Fifty two percent of all professionally managed properties in the Portland/Vancouver area are passing through water and sewer costs to their residents.
Other Areas
The Bend/Redmond area continues its strong performance, with a vacancy rate just over 1%, as Deschutes County, is once again, the fastest growing county in the Western U.S.  Eugene/Springfield is stable, with a 4% vacancy, and average rents of $1.02 p.s.f.  The Salem market has experienced a significant increase in vacancy from 4.03% to 6.45%, and landlords are offering incentives at 23% of the properties.  Salem landlords have been increasing tenant paid water and sewer bill-backs, with over 45% of tenants being billed.  The Bend and Eugene areas are reporting 33% tenant paid water and sewer.
Operating Expenses
This issue includes our annual survey of apartment operating expenses. The numbers are derived from 2013 year end operating statements at 108 stabilized properties, representing 13,011 units throughout the Portland Metro area.  We have expanded and modified our property types this year for Multnomah County, and now have three age groups for both garden style and urban style projects.  This will better reflect the recent building activity and allow for more relevant comparisons.
Median per unit expenses have increased for all property types by a modest 2.2 % over the past year, from $4,251 per unit, to $4,346  per unit.  Newer garden style apartments in Clackamas County have the highest per unit expenses at $5,009, while older urban style units in Multnomah County have the lowest per unit expenses of $4,037.  Property taxes average $870 per unit ($1.07 psf), insurance cost averages $165 per unit ($.22 psf) and water and sewer expense averages $550 per unit ($.76 psf).
Our Contributors
Patrick and Mark Barry have once again contributed an excellent article on the apartment construction market. The current building boom and the market's supply and demand are skillfully analyzed in their detailed article.
Barry reports;
"There is a current shortage of 4,000 units"
"6,500 units currently under construction across 56 projects"
"75 projects with 6,850 new units completed in the last 18 months"
"14,000 proposed units across 125 projects"
"Longer lease up periods"
Over 50% of the units under construction are either close-in east Portland, or suburban west side.  Over 50% of the proposed units are close-in west Portland or suburban west.  There is a concern that the income levels needed by tenants to afford these higher priced units, may not be supported by the Portland economy.  As absorption slows and concessions increase, Barry expects vacancies to increase to 5.25% by the end of 2015.
We are in the midst of a "broad-based and healthy recovery", explains Amy Vandervliet from the Oregon Employment Department. Unemployment has dropped to 6.4%, which is the lowest it's been since the summer of 2008.  This has been helped by job strength in manufacturing, business services and the housing market. Amy believes that the jobs recovery is complete and notes that "in good times and in bad, people want to live here".
This survey represents a total of 63,161 units from 890 properties.  All of the articles have been reprinted without editing the content, in order to present unbiased opinions.  We'd like to thank all of the management companies and property owners who have submitted information. Their participation is critical in insuring the accuracy of our data and the continued success of this report.